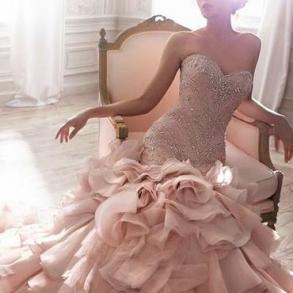 More about Bridal & Veil
Bridal and Veil has over 40 name brand wedding lines
Bridal & Veil is a full service Bridal Salon. We are located in San Diego California. Our store has been established since 1941.
We have the largest designer showroom in San Diego with over 2,000 dresses on the floor from top name designers. Our full service salon caters to the bride, mother of the bride, bridesmaids, and the flower girls.
We have experienced consultants who can assist you with your every need. Please feel free to visit our site, and get a preview of what our store has to offer.
If you go to "bridal registry & appointments", and completely fill out our registry, you will be entitled to $100 off (at the time of purchase) your wedding gown.
Visit Us At Our Retail Location
1233 Camino del Rio South
San Diego, CA , 92108
(619) 295-0820
Click here for a Map and Directions
Email:
[email protected]
Working with a limited budget? Visit our outlet store!
http://www.bridalandveiloutlet.com
100's of Designer Wedding Dresses
Priced from $99.00 to $599.00
Purchase your dress & take it home
on the same day
Visit Us At Our Outlet Location
4620 Alvarado Canyon Road Suite #12
San Diego, CA , 92120
(619) 563-4933
Map & Directions
Bridal and Veil has over 40 name brand wedding lines Bridal & Veil is a full service Bridal Salon. We are located in San Diego California. Our store has been established since 1941. We have the largest designer showroom in San Diego with over 2,000 dresses on the floor from top name designers. Our full service salon caters to the bride, mother of the bride, bridesmaids, and the flower girls. We have experienced consultants who can assist you with your every need. Please feel free to visit our site, and get a preview of what our store has to offer. If you go to "bridal registry & appointments", and completely fill out our registry, you will be entitled to $100 off (at the time of purchase) your wedding gown. Visit Us At Our Retail Location 1233 Camino del Rio South San Diego, CA , 92108 (619) 295-0820 Click here for a Map and Directions Email:
[email protected]
Working with a limited budget? Visit our outlet store! http://www.bridalandveiloutlet.com 100's of Designer Wedding Dresses Priced from $99.00 to $599.00 Purchase your dress & take it home on the same day Visit Us At Our Outlet Location 4620 Alvarado Canyon Road Suite #12 San Diego, CA , 92120 (619) 563-4933 Map & Directions