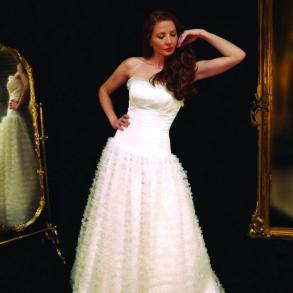 More about Danese Creations
Yes we can... Just say when!
We specialize in quality tailoring, alterations and Bridal Wear, doing things the proper way, and we guarantee to have your order ready for whenever you need it--even if you need it today. But call first for any emergency you may have, so we can get ready for you before you get here. And rest assured that whether your order is an emergency or not, the work we do for you will be done the right way, and ONLY the right way. That's a promise from "The Fairy Godmother of Fashion."?
We have been designing dresses in Phoenix Arizona since 1971. Through our years of experience naturally we have mastered all the secrets of the trade. Scylvia Danese has been able to design to some of the most creative and fashionable dresses, wedding gowns, mother of bride and groom outfits that the state has ever seen. Her designs have been featured in media all across Phoenix for her beautiful designs. If you are looking for a custom dress for any occasion be sure to meet with Scylvia, not only will you fall in love with her personality and excitement for your big day but you will absolutely adore everything about her custom designed dress.
BRAS…
We also do Free Bra Fittings for Women Only, and we stock only the best bras, approved by "The Boob Whisperer" herself.
FABRICS…
Danese Creations has one of the largest selection of high fashion fabrics in the valley. Stop by our shop on Indian School in the heart of Phoenix and you'll find bolts of fabrics and beauty. We have in stock yards and yards of Exquisite Designer Fabric — Silk, Satin, Brocade, Velvet, Chiffon, Organza, Charmeuse, Peau de Soie, Crepe, Lace, Re-embroidered Lace, Silk and Polyester Lining, and Lycra. "New Times" magazine awarded us Best of Phoenix, High-End Fabric Store, 2010.
T.602.955.1313
[email protected]
3902 E Indian School Rd. Phoenix, AZ. 85018
www.danesecreations.com
facebook.com/danesecreations
Yes we can... Just say when! We specialize in quality tailoring, alterations and Bridal Wear, doing things the proper way, and we guarantee to have your order ready for whenever you need it--even if you need it today. But call first for any emergency you may have, so we can get ready for you before you get here. And rest assured that whether your order is an emergency or not, the work we do for you will be done the right way, and ONLY the right way. That's a promise from "The Fairy Godmother of Fashion."? We have been designing dresses in Phoenix Arizona since 1971. Through our years of experience naturally we have mastered all the secrets of the trade. Scylvia Danese has been able to design to some of the most creative and fashionable dresses, wedding gowns, mother of bride and groom outfits that the state has ever seen. Her designs have been featured in media all across Phoenix for her beautiful designs. If you are looking for a custom dress for any occasion be sure to meet with Scylvia, not only will you fall in love with her personality and excitement for your big day but you will absolutely adore everything about her custom designed dress. BRAS… We also do Free Bra Fittings for Women Only, and we stock only the best bras, approved by "The Boob Whisperer" herself. FABRICS… Danese Creations has one of the largest selection of high fashion fabrics in the valley. Stop by our shop on Indian School in the heart of Phoenix and you'll find bolts of fabrics and beauty. We have in stock yards and yards of Exquisite Designer Fabric — Silk, Satin, Brocade, Velvet, Chiffon, Organza, Charmeuse, Peau de Soie, Crepe, Lace, Re-embroidered Lace, Silk and Polyester Lining, and Lycra. "New Times" magazine awarded us Best of Phoenix, High-End Fabric Store, 2010. T.602.955.1313
[email protected]
3902 E Indian School Rd. Phoenix, AZ. 85018 www.danesecreations.com facebook.com/danesecreations