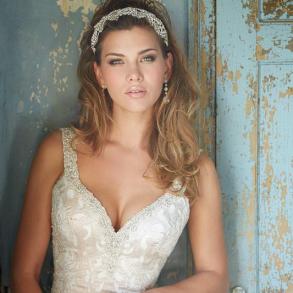 Donna Saylers Fabulous-Bridal
More about Donna Saylers Fabulous-Bridal
Finding the "the perfect dress" is more than simply finding a beautiful gown. It involves an experience that is simply superb. An experience that you will fondly recall for years and years, and one that you will want to share with everyone you know. As the bride, you deserve the absolute best -- 100% dedication -- to just you. Then, and only then, is it possible to have found "the perfect dress."
Fabulous-Bridal is excited to offer our brides and their parties the most luxurious setting and best customer service for their dress shopping experience. Our bridal consultants are attuned to your every need -- from private dressing rooms that respect your privacy to a fun stress-free experience. We are committed to bringing the fun and enjoyment back to bridal gown shopping, and our goal is to make it your second most special day!
Donna Salyers' Fabulous-Bridal brings personalized, attentive service to brides and their parties at our luxurious store -- specializing in designer gowns, bridesmaids apparel, flower girl dresses, mother of the bride, social occasion dresses and accessories.
Donna Salyers' Fabulous-Bridal is located in the heart of the Covington Wedding District in historic downtown Covington, Kentucky
Contact Us at 859-414-0600 or email us at
[email protected]
Finding the "the perfect dress" is more than simply finding a beautiful gown. It involves an experience that is simply superb. An experience that you will fondly recall for years and years, and one that you will want to share with everyone you know. As the bride, you deserve the absolute best -- 100% dedication -- to just you. Then, and only then, is it possible to have found "the perfect dress." Fabulous-Bridal is excited to offer our brides and their parties the most luxurious setting and best customer service for their dress shopping experience. Our bridal consultants are attuned to your every need -- from private dressing rooms that respect your privacy to a fun stress-free experience. We are committed to bringing the fun and enjoyment back to bridal gown shopping, and our goal is to make it your second most special day! Donna Salyers' Fabulous-Bridal brings personalized, attentive service to brides and their parties at our luxurious store -- specializing in designer gowns, bridesmaids apparel, flower girl dresses, mother of the bride, social occasion dresses and accessories. Donna Salyers' Fabulous-Bridal is located in the heart of the Covington Wedding District in historic downtown Covington, Kentucky Contact Us at 859-414-0600 or email us at
[email protected]