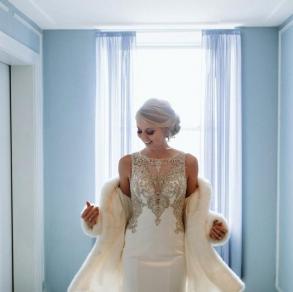 More about One Enchanted Evening
Pittsburgh #1 Bridal & Formal Salon
Welcome to One Enchanted Evening! The premier bridal, prom, and pageant boutique of Western Pennsylvania. We are conveniently located in Zelienople, PA - only a short distance from Pittsburgh, Erie, Ohio, and West Virginia.
We are proud to carry one of the largest bridal, bridesmaids, and mothers selections in our area. What sets our salon apart is our unwavering dedication to YOU - our bride! Our bridal consultants are committed to understanding your style and vision in hopes of helping you find the most perfect gown for your wedding day.
Our award-winning bridal designers include Justin Alexander, Lillian West, Muse by Berta, Allure Bridals, Maggie Sottero, Sottero & Midgley, Mori Lee, Laine Berry, Enaura Couture, Eddy K, and more.
With beautiful chandeliers, floor to ceiling mirrors and rows of luxurious wedding gowns, our bridal atmosphere is unmatched. We are excited to get to know you and celebrate saying yes to the dress with you in our bridal celebration suite! To book your bridal visit please call 724.473.0444 or email
[email protected]
Pittsburgh #1 Bridal & Formal Salon Welcome to One Enchanted Evening! The premier bridal, prom, and pageant boutique of Western Pennsylvania. We are conveniently located in Zelienople, PA - only a short distance from Pittsburgh, Erie, Ohio, and West Virginia. We are proud to carry one of the largest bridal, bridesmaids, and mothers selections in our area. What sets our salon apart is our unwavering dedication to YOU - our bride! Our bridal consultants are committed to understanding your style and vision in hopes of helping you find the most perfect gown for your wedding day. Our award-winning bridal designers include Justin Alexander, Lillian West, Muse by Berta, Allure Bridals, Maggie Sottero, Sottero & Midgley, Mori Lee, Laine Berry, Enaura Couture, Eddy K, and more. With beautiful chandeliers, floor to ceiling mirrors and rows of luxurious wedding gowns, our bridal atmosphere is unmatched. We are excited to get to know you and celebrate saying yes to the dress with you in our bridal celebration suite! To book your bridal visit please call 724.473.0444 or email
[email protected]