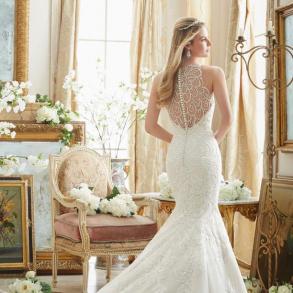 More about Uniquely Yours Bridal
Our bridal department showcases wedding gowns, bridal accessories from today's top designers!
Uniquely Yours, a hallmark in South Georgia's bridal and formal wear landscape, believes in making your vision a reality. For nearly 30 years, we've delivered personalized experiences and service excellence for each guest who walks through our doors - all based on your wedding, prom or special occasion needs.
We are now nestled in Tifton's beautiful historic district at 209 West 12th Street. Uniquely Yours offers a large selection of bridal, bridesmaids, tuxedoes, and special occasion gowns and designs at affordable prices in all sizes.
We invite you to call to make your appointment, or drop in and visit us at our new home where our team of expert consultants focus on bringing your special day to life.
Contact Us:
Telephone:229-386-1932
E-mail:
[email protected]
Our bridal department showcases wedding gowns, bridal accessories from today's top designers! Uniquely Yours, a hallmark in South Georgia's bridal and formal wear landscape, believes in making your vision a reality. For nearly 30 years, we've delivered personalized experiences and service excellence for each guest who walks through our doors - all based on your wedding, prom or special occasion needs. We are now nestled in Tifton's beautiful historic district at 209 West 12th Street. Uniquely Yours offers a large selection of bridal, bridesmaids, tuxedoes, and special occasion gowns and designs at affordable prices in all sizes. We invite you to call to make your appointment, or drop in and visit us at our new home where our team of expert consultants focus on bringing your special day to life. Contact Us: Telephone:229-386-1932 E-mail:
[email protected]