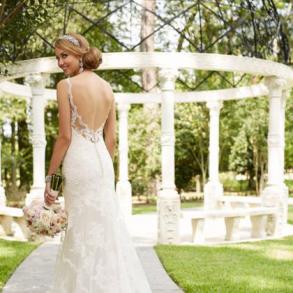 White Arbor Bridal & Formals
More about White Arbor Bridal & Formals
Home is a word often used to describe things that make you feel warm at heart, things that make you smile, and things that make you feel like yourself. Every young girl dreams of her wedding day being filled with smiling moments, friends, family, photographs… Not unlike a home. White Arbor Bridal strives to give every bride their dream moments in our store. From our one-on-one stylist attention, to remembering every bride's story, it is our goal to make you feel special.
White Arbor Bridal, located in Saline, Michigan, offers the most up-to-date bridal fashions at competitive prices with exceptional customer service. We promise to continually shop the latest designs to ensure our brides have the greatest and most recent selection of quality bridal gowns, bridesmaid dresses and bridal accessories from which to choose. Whether you are planning a traditional church wedding, a black tie affair, or a relaxed beach ceremony, our excellent bridal consultants will provide you with the customized special experience you deserve. "We offer a very individualized and special experience for each bride," says Diana Holding, owner. "We love getting to know our brides and our relationship with each one extends beyond the gown purchase." It is very important to us that each of our brides has her gown fitted properly and that she finds the perfect accessories to accent her gown.
Finding the right dress for the rest of the bridal party is next on our stop. We have a large selection of bridesmaid dresses suited for every style, size, and budget. Our jewelry accessories are the final touch to the bridal party; whether showing individual flare, or to harmonize the group. We also offer preservation services for cleaning and preserving your gown after the wedding. We are here along the way for each of our brides to provide any advice, or help, we can give.
734-470-6805
[email protected]
Home is a word often used to describe things that make you feel warm at heart, things that make you smile, and things that make you feel like yourself. Every young girl dreams of her wedding day being filled with smiling moments, friends, family, photographs… Not unlike a home. White Arbor Bridal strives to give every bride their dream moments in our store. From our one-on-one stylist attention, to remembering every bride's story, it is our goal to make you feel special. White Arbor Bridal, located in Saline, Michigan, offers the most up-to-date bridal fashions at competitive prices with exceptional customer service. We promise to continually shop the latest designs to ensure our brides have the greatest and most recent selection of quality bridal gowns, bridesmaid dresses and bridal accessories from which to choose. Whether you are planning a traditional church wedding, a black tie affair, or a relaxed beach ceremony, our excellent bridal consultants will provide you with the customized special experience you deserve. "We offer a very individualized and special experience for each bride," says Diana Holding, owner. "We love getting to know our brides and our relationship with each one extends beyond the gown purchase." It is very important to us that each of our brides has her gown fitted properly and that she finds the perfect accessories to accent her gown. Finding the right dress for the rest of the bridal party is next on our stop. We have a large selection of bridesmaid dresses suited for every style, size, and budget. Our jewelry accessories are the final touch to the bridal party; whether showing individual flare, or to harmonize the group. We also offer preservation services for cleaning and preserving your gown after the wedding. We are here along the way for each of our brides to provide any advice, or help, we can give. 734-470-6805
[email protected]